We talked to Edward, the artist behind the artwork of the All Together Now Gift Box, about representing the queer community with art, his upbringing, and drawing inspiration from the world around us.
---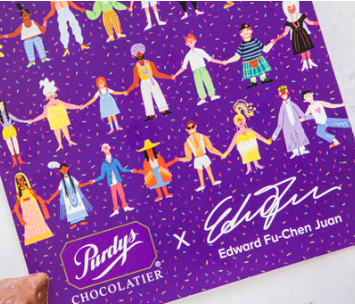 For Pride this year, we reached out to queer Taiwanese Canadian artist, Edward Fu-Chen Juan to design the artwork on a Pride gift box and show the world what Pride means to him.
He came back with an amazing design that shows everyone has a story to tell, and everyone deserves to be celebrated. We're so proud and excited to feature his artwork on the All Together Now Gift Box.
Everyone on the team loves Edward's design, and wanted to hear more about the artist behind the art. He was kind enough to answer a few questions about himself, his process and give us a glimpse of how he creates and what Pride means to him.
---
Meet Edward Fu-Chen Juan
Q. Can you tell us a bit about your background?
I grew up in a small seaside village in southern Taiwan, close to Kenting National Park. Because of the remoteness of where I was raised, I spent a lot of time drawing and playing outdoors in the wild. That is where I cultivated my passion to be an artist. My parents are both outdoorsy people, especially my father. He would take me mountain climbing and hiking frequently.
Q. Can you tell us a bit about your creative process?
My creative process always starts in my sketchbook with sketching, writing, researching, and thinking. Then I grow the idea from there with more sketches and eventually onto my computer. I frequently borrow art books from the public library for inspiration.
Q. Who or what are your biggest influences?
I have many influences but currently I am inspired by the life story of Alexander von Humboldt, an influential 18th century naturalist who documented his journey through the Americas. One of the visual artists I'm fascinated by is the legendary Inuit artist Kenojuak Ashevak. I love her art practice as an indigenous person who is connecting her artwork to the nature of her land. It is something I strive to do as an artist.
On the Purdys Collaboration
Q. For the All Together Now gift box design, what was your main source of inspiration?
My main source of inspiration is the word "community". It was pitched by the Purdys team during the brainstorming phase. I thought of what that means to me, and I thought of "diversity" and then "inclusiveness". I want to highlight our contemporary queer community that is still growing and evolving.

Maybe in a few years when I do another design, the visual will be different and become even more inclusive in new ways. It is the endless growth that makes me feel excited. The queer community has to continue to engage with the public on the conversation about gender diversity and marginalized people.
Q. Who or what are your biggest influences?
I want the customers to learn more about the queer community with the visual elements. I think for some people this is a foreign subject or material that is hard to relate to. I encourage everyone to engage with and learn from members of the queer or visible minorities community. And I hope my design at least can motivate that spirit.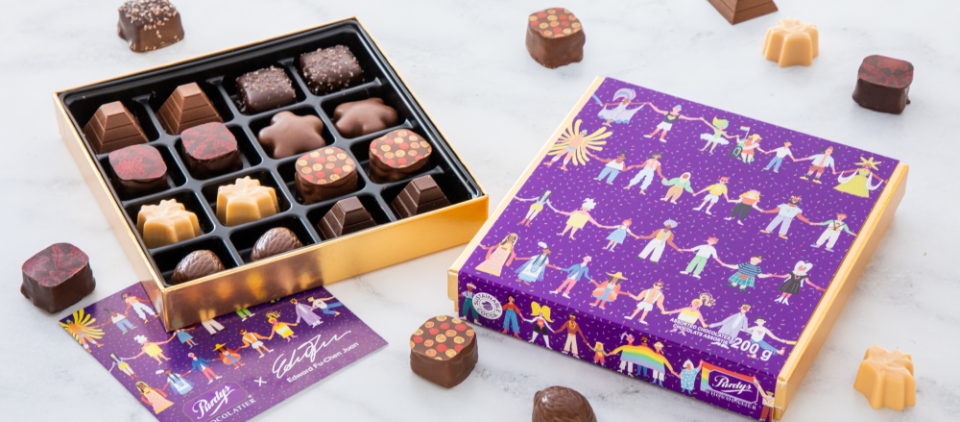 Beyond Art and Creation
Q. What do you enjoy doing when you're not designing or creating?
I am always up for a good hike, rain or shine. I love gardening and growing my own food. I am involved with local community gardens and conservation institutions. Aside from my commercial illustration work, I also have a fine art practice in printmaking, ink making, and paper making.
Q. Can you tell us a bit about your work with nature?
I am researching ink extraction from indigenous plants of Canada utilized for paper making and silkscreen printmaking. Through it, I'm exploring to connect my Taiwanese and Taiwanese indigenous background with my contemporary identity as a queer Canadian immigrant. I am collaborating with other fine artists as well.
---
Finally… If you were a Purdys chocolate, which would you be and why?
Hedgehog, because it is a hedgehog. Maybe if it has peanut butter filling then it would be more accurate. Future product?
Hedgehog, because it is a hedgehog. Maybe if it has peanut butter filling then it would be more accurate. Future product?
---
To find more of Edward's work, and his exciting upcoming projects, please visit him at www.edjuan.com or follow him on Instagram: @edjuandraws.
Thank you, Edward, for creating such a special design for our All Together Now Gift Box. You can purchase them online or in-shop now!
$5 from every purchase will support The Get REAL Movement, a non-profit organization combatting 2SLGBTQ+ discrimination, racism and bullying in schools, summer camps, and workplaces. Our support will help fund their educational workshops and leadership development to break down discrimination, promote unity, and foster compassion.
Team Purdys