Chocolate Survival Kit: Survive the Season
Shipping & Gift Guarantee
Get FREE Shipping on Canadian Orders $99 or more
Merchandise total must be $99 or more per individual address, after discounts and before taxes.
Offer limited to online orders on purdys.com shipped Standard Post within Canada.
Purdys Gift Guarantee
We take great care to ensure your gifts arrive in perfect condition (as if you'd delivered them yourself).
If there are any issues with your order, please call 1.888.478.7397 ext 4 or email sales@purdys.com within 5 days of delivery.
Ingredients: Sugars (sugar, glucose), Milk ingredients, Cocoa butter, Pecans, Unsweetened chocolate, Hazelnuts, Peanuts, Almonds, Coconut oil, Salt, Natural and artificial flavours, Soy lecithin, Coffee, Instant coffee, Cornstarch, Gum arabic, Maltol, Water, Palm oil, Shea butter, Titanium dioxide, Iron oxide. Contents may vary; some ingredients may not be present. May contain: Eggs, Wheat, Sulphites, Other tree nuts.
Ingrédients: Sucres (sucre, glucose), Substances laitières, Beurre de cacao, Pacanes, Chocolat non sucré, Noisettes, Arachides, Amandes, Huile de noix de coco, Sel, Arômes naturels et artificiels, Lécithine de soya, Café, Café instantané, Amidon de maïs, Gomme arabique, Maltol, Eau, Huile de palme, Beurre de karité, Dioxyde de titane, Oxyde de fer. Le contenu peut varier; certains ingrédients pourraient être absents.
Peut contenir : Oeufs, Blé, Sulfites, Autres noix.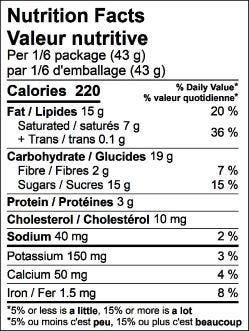 We found other products you might like!