And a Peep into the History of Easter Eggs & Bunnies.
Why is there chocolate at Easter?

It seems so natural to us now, to eat all sorts of chocolate during the Easter holiday. We start shopping for chocolate gifts and baskets to share with friends, kids, and colleagues. Numerous Easter chocolate hunts are organized throughout family backwards, school playgrounds, and local parks. When the Easter Bunny comes around, their baskets are overflowing with chocolate eggs to share with kids and adults alike.

Why do we give gifts on Easter?
And how did chocolate become the treat to eat during Easter?

Well, to answer that we have to look at what the chocolates represent. The two types of chocolate at Easter are of course the chocolate egg and the chocolate bunny. How these two seemingly different things come to represent Easter have to do with Easter's religious origins: Christianity and the Resurrection of Jesus Christ.
The Egg: A Symbol of Life
The egg representing the circular nature of life isn't special to Christianity. Numerous religions and cultures around the world use eggs to symbolize birth and regeneration. But in terms of Christianity and its history, the Easter egg was adopted as a tradition from pagan practices during the 13th century. According to Christian perspectives, the Easter eggs represent Jesus' emergence from the tomb and resurrection. The shell of an egg represents the tomb of Jesus and the chick represents Jesus' resurrection.
Now, the tradition of decorating Easter eggs is practiced by both religious and non-religious communities. It's become a universal activity that brings together communities around the world and invites everyone to enjoy a fun and delicious tradition.
Easter hunts and rolls are popular egg-related activities during Easter. The White House famously hosts annual Easter egg rollson their lawn for local children to participate and compete.
The Bunny: Bouncing its way into History and Tradition

No one is really sure how rabbits became Easter's symbolic mascot, but rabbits are well-utilized as symbols of fertility and new life—themes that are prominent in Easter and during the spring season. According to some accounts, the Easter Bunny was first introduced in America during the 1700s through Germain immigrants having brought their tradition of egg-laying hare called "Osterhase". Eventually, as traditions do, it spread across the U.S. and was adopted through to modern Western culture.
Okay—enough of Easter history. Let's talk about Easter chocolate gifts!

As much as we want to keep our childhood well into adulthood, it's the kids who appreciate the magic of Easter the most. From the chocolate-giving Easter Bunny, to incredible Easter egg hunts where they scramble to unearth delicious, brightly-foiled chocolates. Much like Christmas, Halloween, or Valentine's Day, the promise of chocolate gifts fills the day with excitement and the memories last for a lifetime.
But sometimes thinking of fresh, exciting ideas and gifts for Easter can be hard—especially since there are only a few Easter themes and symbols to choose from. There are only so many chocolate hunts and egg decorations you can plan.
Well, don't worry your fluffy tail over it. We have delicious, fun, memory-making chocolate gift ideas to fill your kids' Easter with excitement, magic, and chocolate wonder.
Fill your kids' (big or little) Easter holiday with our amazing and adorable Easter chocolates. Kids of all ages will enjoy our famous chocolate bunnies, delicious chocolate Easter eggs, and magical gift baskets. Our friendly best-selling Barnaby Bunny can be the first thing your little ones see by their bed when they wake up on Easter morning. Or hear them squeal with delight when they find our Easter eggs hidden throughout the house.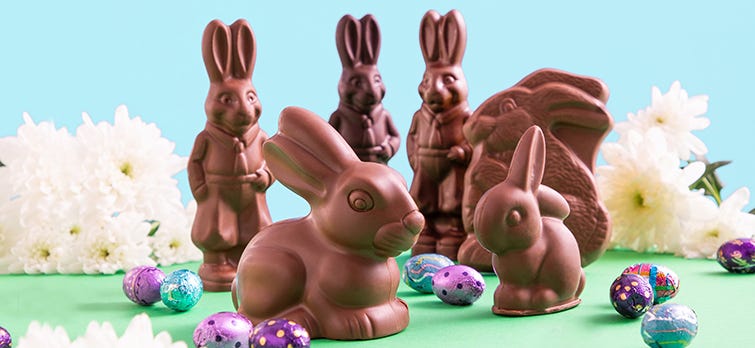 Bring joy with our chocolate bunnies. The famous Barnaby Bunny is only $10 each and is made of creamy solid chocolate. Or bring a smile with the adorable Baby Bunny who's almost too cute to eat. Find your favourite bunny in white, dark, milk chocolate.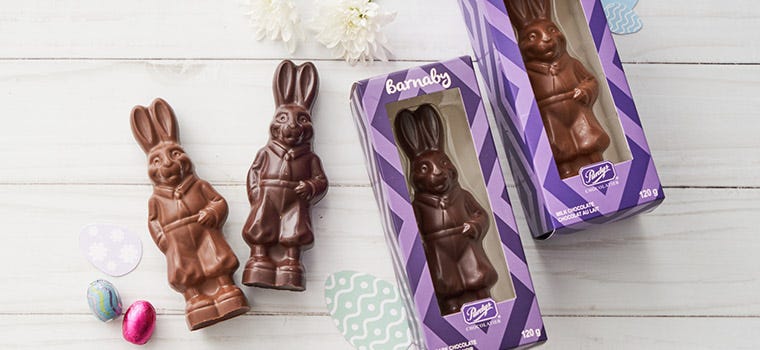 Our amazing and delicious chocolate Easter Eggs are here and ready to help you and your family make delicious Easter memories. Shop favourites like Caramel Eggs, Crisp Eggs, and even Vegan Eggs!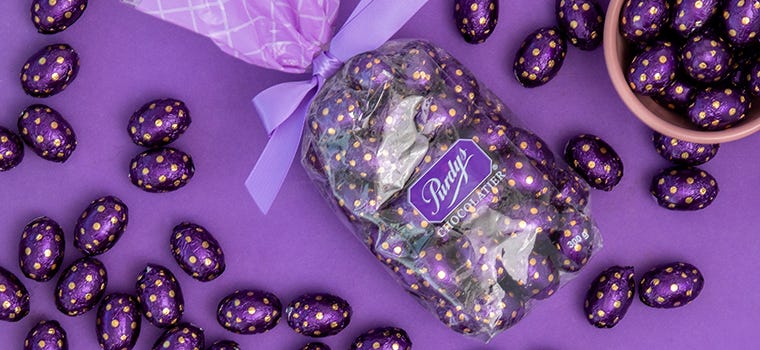 Easter Leftover Luxuries—what to do with leftover chocolate Easter bunnies?
If (by some slim chance) you do have leftover chocolate from chocolate hunts, or even half-eaten chocolate bunnies, you might worry about it going to waste. Luckily, there are plenty of solutions and ALL of them are delicious. Chocolates are tasty in all forms (especially our chocolates), and we have amazing recipes that can take leftover Easter chocolates into mouth-watering Easter desserts and baked treats! Grab your mixer and your best kitchen helper to try any of these chocolate recipes.

Recipes
White Chocolate Custard Easter Egg Nests
Coo over these adorable (and tasty) custard egg nests made with creamy white chocolate and phyllo pastry dough.
Chocolate Peanut Butter Pots de Crème
Rich. Creamy. And oh-so velvety. Chocolate and peanut butter come together in the most magical way.
Dark Chocolate Carrot Cake
Impress your whole party with this classic carrot cake featuring our delicious dark chocolate.
Chocolate Marshmallow Mousse Tart
Easter dessert with a luxurious twist, this recipe features the delightful texture of our Mallow Eggs and a hint of Grand Marnier.
Happy Shopping! If you need any help, just visit us in-shop or call our customer care centre at 1.888.478.7397