Corporate Gifts
Impress your clients and prospects with delicious chocolate gifts from Canada's favourite chocolatier.
Find premium corporate gift ideas
Looking for thoughtful ways to appreciate your clients, vendors and employees beyond just "Thank You" emails?
You're in the right place! Be it work anniversaries or new partnerships, choose from our wide range of corporate gift boxes, tins and baskets loaded with the tastiest chocolate assortments.
You can also save up to 15% by placing orders worth $1500 or more!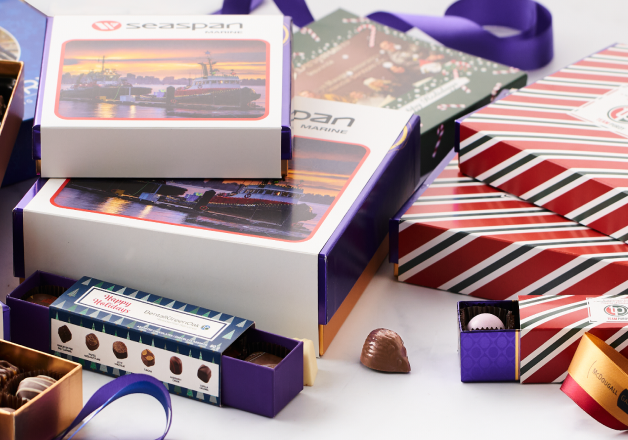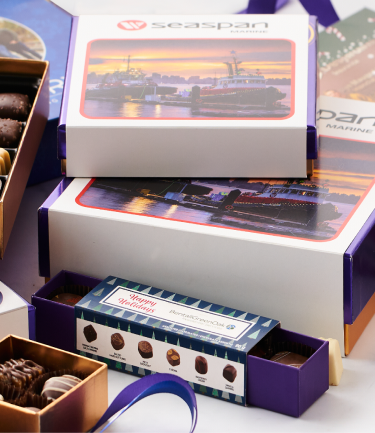 Customize your gifts
Customize Gifts
Reinforce your brand with custom gift boxes featuring your logo, unique messaging, custom designs and custom ribbons. Choose a chocolate assortment or add your business card for a more personal touch.
Why choose Purdys Corporate Gifts?
We're Canadian
We've been crafting fine chocolates for Canada since 1907.
Sustainability matters
All our chocolate gifts are made with sustainable cocoa.
We craft kindness
We support amazing organizations through Purple Partnerships
We make ordering easy
You can order your gifts by phone, on email or shop online.
Trusted by hundreds of business owners like you
"Love how simple it is to order and direct ship! Purdy's is always delicious, exciting to receive as well as widely recognized for quality chocolate!"
Lori
"First experience of using Purdy's for our corporate gifting and was most impressed, will definitely be using again for future events throughout the year. Thank you Purdy's for your service."
Linda L.
Need some help deciding which corporate gifts to choose?
Our Corporate Gifting Specialists are always here to help you select incredible gifts. Contact us today.
Phone
You can call us at
1.888.478.7397 Ext 2
Email
Send an email to,
business@purdys.com
Shop Online
Already decided? Start
shopping client gifts now!
Frequently Asked Questions
It's a celebration in the form of a gift and social recognition to people for going above and beyond. It could also be a company achieving a milestone or just celebrating a business relationship.
Yes, you can get it here.