How to Express Love, Romance or Affection on Valentine's Day?
Ahh February 14th… As kids, it's the cute holiday you celebrate with classmates and friends. And as you get older, it's the wonderful and universal way to celebrate the wonder that is romance, love, and affection.

Gifting is often seen as a tangible expression of love and affection. For some people, receiving gifts from their loved ones is an important way of feeling valued and appreciated.

For some people, giving and receiving gifts is a powerful way of feeling loved and valued. Whether it's a small token of appreciation or a grand gesture, gifts can make a person feel special and cared for.

On the other hand, not everyone values gifting as a love language. Other great ways to express love are:

Acts such as doing something kind or helpful.
Spending quality time together
Love can be expressed through physical affection
Some people feel and demonstrate love through words.

If you're unsure what is the best way there are a few ways to find out. Pay attention to how you and your partner express love and affection. You will find that by understanding and speaking the love language, you can improve your relationships and make your loved ones feel valued and appreciated.

In the end, no matter how you choose to express your feelings on Valentine's Day, what matters the most is the thought and sincerity behind it.

But if you're stuck on ideas and need some quick inspiration—we got you covered.
Why do we give chocolate on Valentine's day?
There's something about chocolate that warms the heart and soul. Every bite of chocolate makes you feel happy, content and loved—which is why it is one of the most popular Valentine's Day gifts for many people around the world. And just like true love, every chocolate is perfectly unique and can mean something different to everyone.

Purdys has an almost endless collection of chocolate selections. From pre-selected gifts to customized assortments, we offer the best chocolates for Valentine's Day. Every romantic heart can choose from our famously delicious treats made with sustainable cocoa, and have it expertly wrapped and presented for your loved ones.
Purdys Valentine's Gifts: Chocolate Lollies, Baskets, and More
When you gift with Purdys, you're always gifting with your heart. Shop our Valentine's Day collection to find your perfect inspiration for soulmates and best friends.


Classic Valentines Gifts
Nothing beats a classic heart shaped chocolate box on Valentine's Day. Our beautiful novelty gift boxes, and gift wrapped boxes are packed full of our best-selling treats that will warm anyone's heart.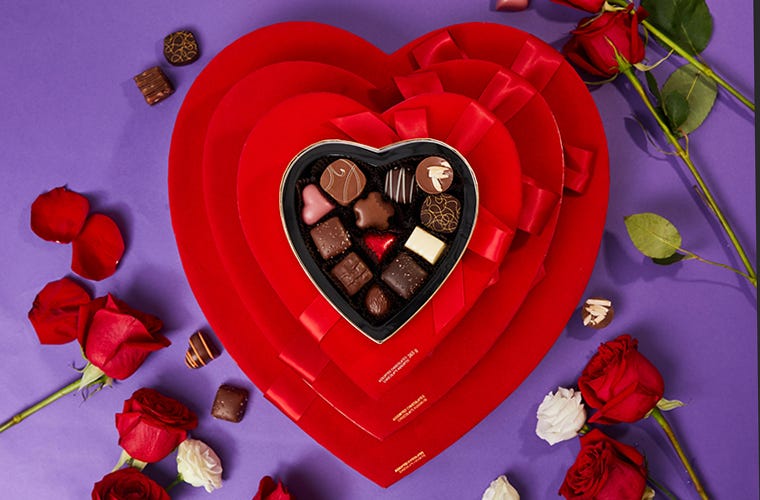 Perfect Valentine's Day Gifts: Valentine Chocolate Gift Baskets
Who wouldn't fall in love at the first sight of a basket FULL of chocolate? Our chocolate gift baskets and sets are overflowing with love, making them the perfect gifts for partners, parents, or fun treats for the office.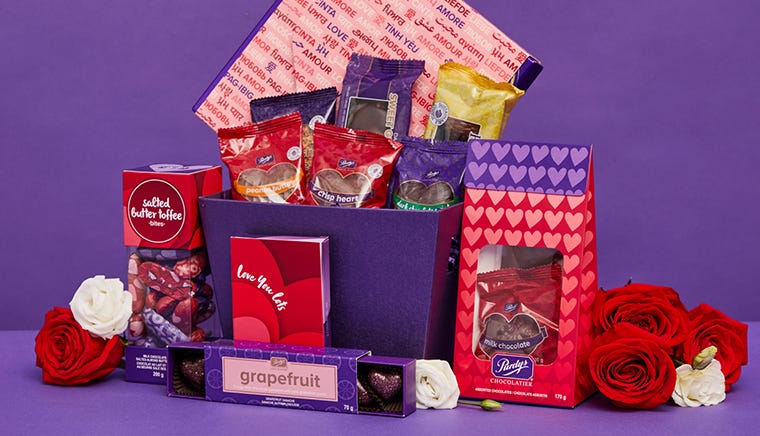 Valentine's Day Bestsellers
Gift the BEST Valentine's chocolate for loved ones, friends, and family with our most popular chocolate flavours.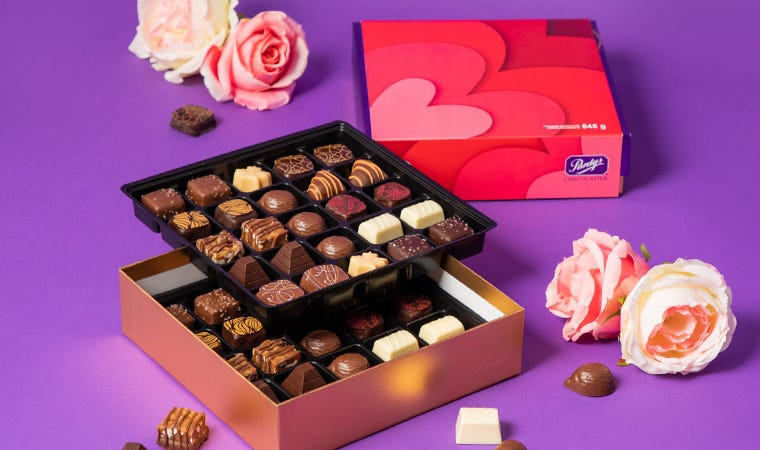 Last Minute Valentine's Day Gifts
In a rush, or just ran out of time? Give a tasty and thoughtful Valentine's Day gift instantly with an e-Gift Card.
Where to buy Valentine's Day Chocolate?
The choice is yours! Shop our entire Valentine's Day chocolate selection online or visit one of our many Purdys shops across the country.
Happy Shopping! If you need any help, just visit us in-shop or call our customer care centre at

1.888.478.7397