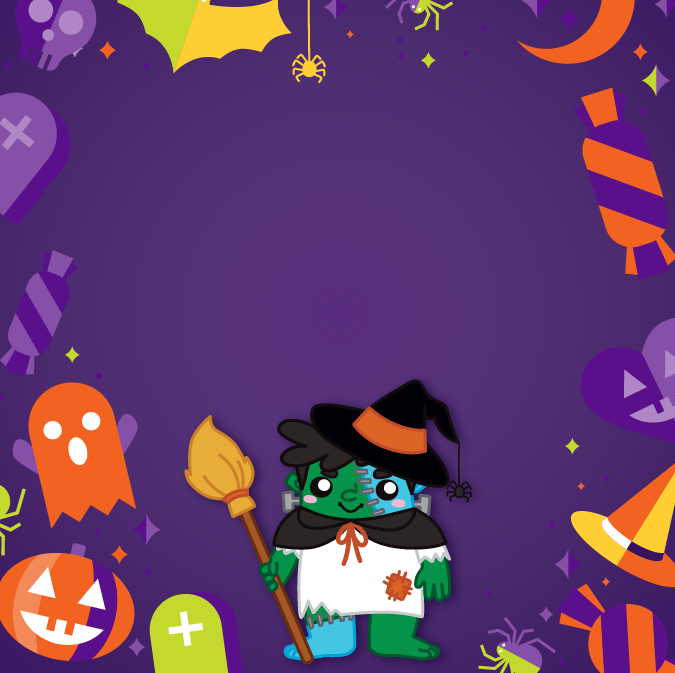 Thank you for participation!
The Halloween Scavenger HAUNT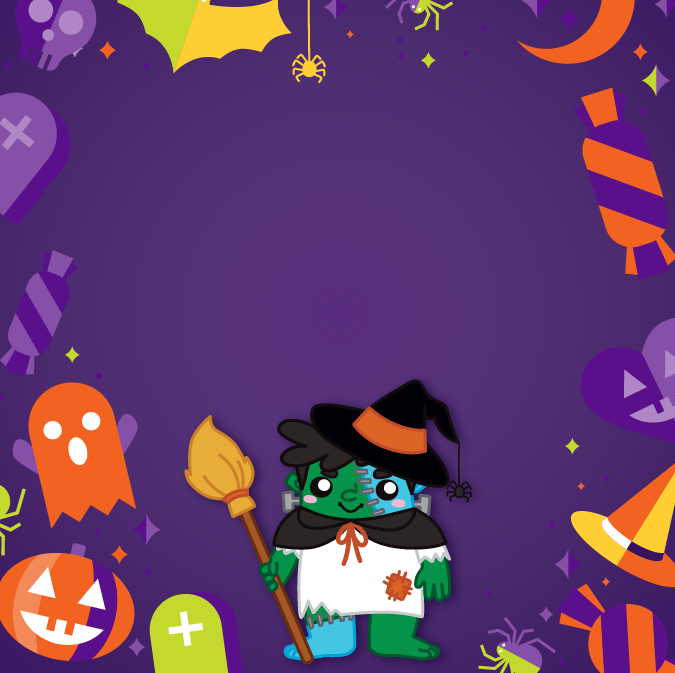 The Halloween Scavenger
HAUNT

is coming soon…

Get ready for the scariest contest of the year. Check back soon to find out what's brewing.
Join the Halloween Scavenger HAUNT!
The haunt is on!
Attention wizards and witches! Grab your broomsticks and get ready to brew up some Halloween fun. Our friend, Frankenmallow, lost his Halloween costumes while gobbling up spooky treats on our site. Help him get ready for Halloween by finding his lost costumes and get a chance to WIN lots of delicious daily prizes and a $1,000 Purdys gift card on the final day!

VISIT this page every day from October 15-20. Each day, you'll get a new clue for where Frankenmallow's Halloween costume was last seen.

FIND Frankenmallow's lost costume item. It'll be hidden on a different page on our website daily.
CLICK on the lost costume once you've found it to enter the contest. 
Halloween Scavenger HAUNT Daily Hint:
Day 6:
Help Frankenmallow find his witch hat & broomstick. He was last seen wearing it while stealing treats from a page full of mouthwatering BESTSELLING CHOCOLATES.
*Terms and Conditions apply. This contest is open to Canadian residents only (excluding Quebec).
Congratulations to our winners!
| Winners | Frist Name | Last Name |
| --- | --- | --- |
| Day 1 | Alyssa | M. |
| Day 2 | Patricia | Y. |
| Day 3 | Joy | H. |
| Day 4 | Rebecca | W. |
| Day 5 | Gail | F. |
| Day 6 | Danielle | S. |
Daily Halloween Scavenger HAUNT Prizes
October 15th
1 x Boo Bag
1 x Salted Toffee Box, 200 g
1 x Halloween Gift Tin, 12 pc, 150 g
October 16th
1 x Milk Autumn Leaves, 200 g
1 x Dark Autumn Leaves, 200 g
1 x Milk Ogre Balls, 200 g
1 x Fall Classic Gift Box, 25 pc
1 x Almond Bark, 325 g
October 17th
1 x Fall Classic Gift Box, 25 pc
1 x Pumpkin Mini Gift Basket
1 x Survive The Night Kit
1 x Milk Autumn Leaves
1 x Boo Bag
1 x Salted Toffee Box, 200 g
1 x Fall Tin, 6 pc
1 x Halloween Tin, 6 pc
1 x Milk Ogre Balls, 200 g
1 x Halloween Tin, 6 pc
October 18th
1 x Fall Classic Gift Box, 25 pc
1 x Fall Classic Gift Box, 16 pc
1 x Coffin Gift Box, 18 pc
1 x Halloween Classic, 16 pc
3 x Pumpkin Mini Gift Basket
1 x Boo Bag
1 x Milk Autumn Leaves, 200 g
October 19th
3 x Fall Classic Gift Box, 25 pc
1 x Fall Classic Gift Box, 16 pc
1 x Coffin Gift Box, 18 pc
1 x Halloween Classic, 16 pc
2 x Birthday Cake, 6 pc
1 x Pumpkin Spiced Latte, 6 pc
1 x London Fog, 6 pc
1 x Mango, 6 pc
1 x PBJ, 6 pc
6 x Golden Crunch Toffee Bar
1 x Milk Ogre Balls, 200 g
1 x Dark Zombie Balls, 200 g
2 x Fall Tin, 6 pc
1 x Halloween Tin, 6 pc
1 x Halloween Tin, 12 pc
1 x Milk Autumn Leaves, 200 g
1 x Dark Autumn Leaves, 200 g
2 x Boo Bag
1 x Salted Toffee Box, 200 g
1 x Almond Bark
1 x Pumpkin Mini Gift Basket
October 20th
$1,000 Gift Card