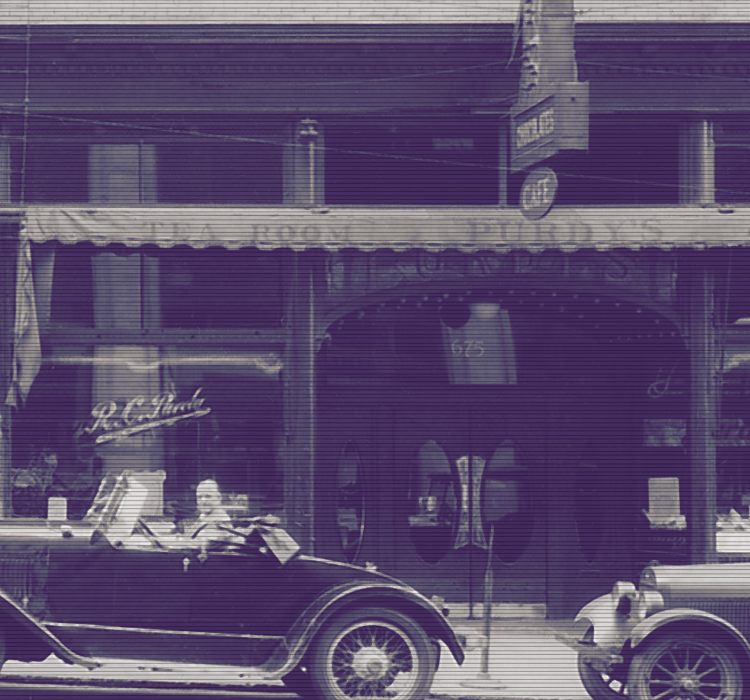 Purdys Heritage
More than a century of making premium chocolates
1907-1924
FIRST ERA: The Founder's Story - The Struggles & Successes
1907

The Humble Beginnings

Today, we may think of "Purdys" as synonymous with "chocolates" or "treats", but in the 1900s it was only the name of an ambitious entrepreneur, Richard Carmon Purdy.

1910

The Chocolatier Joins the Café Business

Granville Street Location

It won't be a surprise to current customers who know Purdys chocolates well, but Purdy insisted on using only the freshest, highest-quality ingredients. As a result, his reputation as one of Vancouver's finest chocolate makers steadily grew.

1914

Purdy Makes it Official

By 1914, the burgeoning city of Vancouver was quickly becoming the metropolitan centre for all of western Canada.

1918

A Manufacturer and Retailer of High-Class Confection

In 1918, according to Wrigley's British Columbia Directory, Purdy was considered a "Manufacturer and Retailer of High-Class Confectionery". While it didn't roll off the tongue, it established Purdy's reputation for crafting premium-quality chocolates.
1925-1962
SECOND ERA: Hugh Forrester Saves Purdys
1925

From Bookkeeper to Chocolatier

Robson Street Location

In the early 1920s, overwhelmed by debt and hounded by creditors, Purdy was forced into receivership and needed someone to take possession of and sell or liquidate his company to repay the outstanding debt.

1939

Chocolate and Adversity

Just before 1940, the second World War broke out and the entire world was thrown into political conflict, socio-economic turmoil, and resource shortage. This meant the government introduced a national food rationing, including key chocolate-making ingredients like sugar, butter, and dairy cream.

Late 1940s

Like Father, Like Son

After the war ended in 1945, Canada and countries around the world sought to bring back the bright, promising landscape. People were excited about a post-war future.

1949

A Factory at Last!

Purdys saw new and exciting opportunities to grow and prosper in the post-war era. By the late 1940s, the business had outgrown its cramped and dark basement candy kitchen on Robson Street. Purdys urgently needed to find a larger facility where the chocolatiers could work their magic.

1950

The Longest Box Of Chocolates The World Has Ever Seen!

The Famous Yardlong Box

In the early 1950s, Frank's wife, Joy, was always looking for new ways to sell their chocolates. There happened to be a men's clothing store right next to the Purdys Granville Street shop.

1953

The Purple Wave Hits the Suburbs

As Downtown Vancouver was becoming alive with exciting businesses, culture, and communities, the districts surrounding it were also seeing the refreshing growth of families and locals looking to place their roots in the quieter suburbs of Vancouver. And with that, the Forresters saw new opportunities to set up shop.

1962

Let's Go To The Mall

Malls may seem like an everyday part of our lives nowadays, but they were exciting and new in the 1960s.
1963-1993
THIRD ERA: Purdys flourishes under Charles Flavelle
1963

The Flavelle and Wilson Years

The decision to establish the Park Royal store marked the beginning of the final chapter in the working relationship between Hugh and Frank. The store was not successful. So among other challenges, the father-son partnership began to weaken and in mid-1963, Hugh and Frank Forrester announced they were putting Purdys up for sale.

1963

The Milk Chocolate Revolution

Traditionally, dark chocolate was used for all Purdys' confections. But milk chocolate with its sweeter taste and creamier texture soon became the sought-after treat among customers.

1969

The Age of Shopping Malls

Today, it's hard to believe that few shopping malls existed in the late 60s. Purdys initial shop in Park Royal was not proving to be a resounding success.

1970

A Place to Play

Choklit Park

The idea of Choklit Park was sparked in 1969 when Purdys ran into problems with its awkward loading facilities. Access to the building was through a narrow and steep driveway beside the factory.

1970

Purdys Opens in Chinook Shopping Centre in Calgary

As shopping malls grew in popularity around the country, Purdys and its chocolates grew too! The Chinook Centre store was the first Alberta location for Purdys Chocolates, the first of 18 stores in Alberta today

1980

We are Not So Different, You and I

In 1980 Charles Flavelle opened the first store in Seattle, Washington. At the time, Charles thought Seattle was like Vancouver in taste and lifestyle.

1982

Kingsway Factory - Lookin' Good for 75!

By 1980, Purdys had grown to 28 stores. The tiny kitchen on West 7th Avenue was no longer keeping up and it was time to move to a bigger space. After three years of searching for the right facility, the Canada Dry building at Kingsway and Earles Street in Vancouver came up for sale.

The Early 1990s

The Hedgehog Craze Hits Vancouver

Purdys Hedgehogs

In the early 1990s, Purdys introduced what was to become a customer favourite: the Hedgehog. With the silky smooth, extra hazel-nutty gianduja centre and adorable hedgehog mould, customers of all ages fell in love—fast!
1994 - Present Day
FOURTH ERA: Purdys becomes Canada's Chocolatier under Karen Flavelle
1994

Karen Flavelle joins Purdys Chocolatier as Executive Vice President

Growing up, all four of Charles' children had been discouraged from seeing Purdys as their future career.

Late 90s

Rebranding

Karen was excited to connect with Purdys customers and to understand what Purdys meant to them. Although Purdys had many fans, she knew that there was immense potential for future growth.

The Early 2000s

Expansion!

The early 2000s were a time of creativity and ingenuity for Purdys. Purdys No Sugar Added line was previously made externally by a subcontractor. Chocolate development for this line was brought in-house to be made by Purdys.

2007

100th Anniversary

2007 marked Purdys' 100th anniversary. To celebrate, Purdys held an exhibition called The Story of Chocolate at Science World.

The 2010s

Becoming Canada's Chocolatier

The 2010 Winter Olympic Games were held in Vancouver, and the then 103-year-old family-owned Vancouver-based company was the perfect choice to be the Official 2010 Olympics Chocolate provider.

2020

COVID, Innovation and Laying the Foundation for the Future

In 2020, COVID shook the world. While it brought unforeseen challenges, it also brought time to reinvent improved ways to serve customers and plan for a brighter Purdys' future.

2021 - Present

New Beginnings & Milestones

2021 was the year when Purdys Purple Partnership initiative was established. With a long history in philanthropy and community support, Purdys realised it had also created a new platform for communities to be seen, heard and supported.
More than a century of making premium chocolates
In 1907, barber turned chocolatier Richard Carmon Purdy opened the very first Purdy's Chocolates (now Purdys Chocolatier) shop on Robson Street in downtown Vancouver. From the beginning, Purdy insisted on using only the highest-quality, freshest ingredients in his chocolates. His reputation as one of Vancouver's finest chocolate makers grew steadily, and more and more people gravitated to his store for his handmade confections.
Although business survived the First World War, the early 1920s brought about financial hardship for Mr. Purdy and he was forced into receivership. The story of Purdy's Chocolates might have ended then and there, however a group of Purdy's major creditors didn't want to see the company go under and in 1925, their top bookkeeper, Hugh Forrester, purchased Purdy's Chocolates for $1.00. In the late 1940s, Forrester's youngest son, Frank, joined the business and Purdy's Chocolates was well-positioned to take the lead in Vancouver's chocolate market.
In 1963, Charles Flavelle and Eric Wilson purchased Purdy's Chocolates from the Forresters and the company continued to thrive, growing from 5 shops in 1963, to 28 shops in 1980. In 1994, to ensure the company would remain a family business with Purdy's values and traditions protected, Charles' daughter, Karen Flavelle, joined Purdy's in the role of Executive Vice-President. Karen's previous experience with General Mills and Cara Operations proved invaluable. An amicable buyout of business partner Eric Wilson's interest in the company in 1996 cleared the way for Purdy's to become, once again, a family-owned business. In a smooth transition, Karen became President of Purdy's, bought the business from her father and has been the sole owner and CEO since 1997.
Today, more than 110 years since Richard Purdy opened his first chocolate shop, we're unquestionably Canada's chocolatier and our tasty treats are enjoyed in over 75 shops across British Columbia, Alberta, Saskatchewan, Manitoba and Ontario – and by people all over the world.
And while there have been many changes in the world since 1907, our core company values have stayed the same; it's all about fantastic chocolates, fantastic service and fantastic people.
Purdys Chocolatier Timeline
We've been making quality chocolate confections since 1907…and we have the sweet history to prove it.