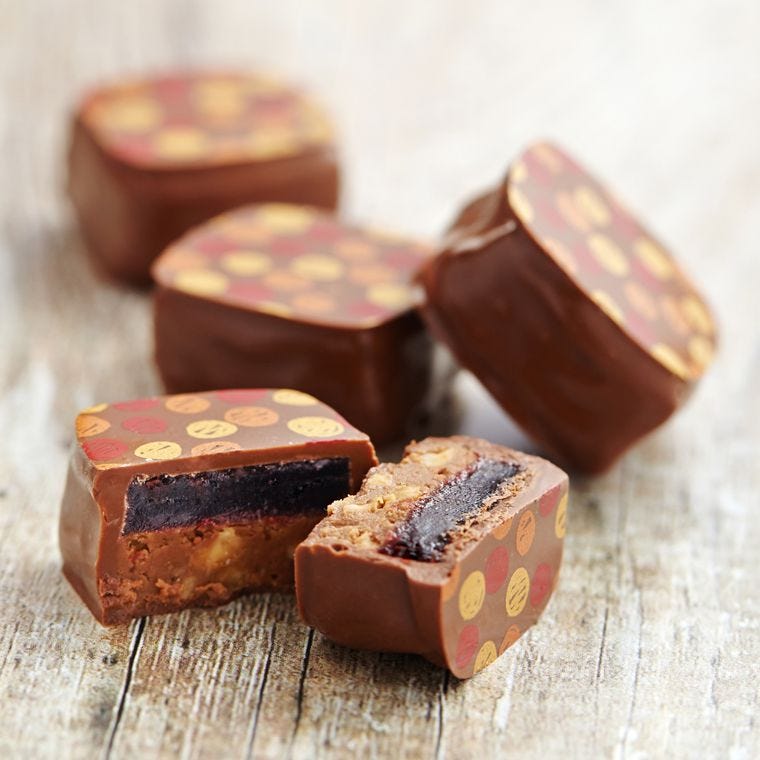 Chocolatier Rachel McKinley taste-tested lots of peanut butters and types of jellies and jams on her quest to create the chocolatier version of this childhood classic.

For one, the texture of the peanut butter (smooth, crunchy, in-between?) plays a huge role in the mouthfeel of a chocolate. Crunchy peanut butter brought the exact flavour profile that Rachel wanted to achieve for the bottom layer of this piece. The peanut butter is blended with milk chocolate (made with sustainable cocoa) into a gianduja (jan-DOO-yah). If you're a Purdys fan, you're already familiar with another type of gianduja in our runaway bestsellers, the Hedgehogs.

And while grape jelly might be the traditional choice, Rachel paired the crunchy peanut butter ganache with a melt-in-your-mouth raspberry pate de fruit (the elevated French version of a fruit jelly).

Wrap it in creamy milk chocolate and you've got yourself the makings of a soon-to-be iconic chocolate.

The inspiration for our PB&J piece is naturally the peanut butter & jelly sandwich. The first known reference to PB&J is in the Boston Cooking-School Magazine of Culinary Science and Domestic Economics, authored by Julia Davis Chandler, in 1901. Here's the excerpt:

"For variety, some day try making little sandwiches, or bread fingers, of three very thin layers of bread and two of filling, one of peanut paste, whatever brand you prefer, and currant or crab-apple jelly for the other."

But peanut butter & jelly sandwiches became popular a bit later, starting with the Great Depression in 1929.

Peanut butter is high in protein and makes for a filling meal, which was especially helpful for soldiers in World War II. Jelly, bread and peanut butter were staple ingredients in war rations and the peanut butter & jelly sandwich became a popular meal, especially with American soldiers.

After the war ended in 1945, the soldiers brought their love of PB&J sandwiches home and it soon became a household staple.

And now there's something even better than a PB&J sandwich. Peanut Butter & Jelly chocolates are available in all Purdys shops and online at purdys.com.