When Canadian Guide Dogs for the Blind had their first Chocolate Labrador in years, we were honoured that they named him Purdy! We had a chance to talk to Jessie Thornton, Manager of Canine Development and Care, about how they've been fundraising with Purdys Seasonal Fundraising programs for the past 4 years and to find out what Purdy, the guide dog in-training has been up to.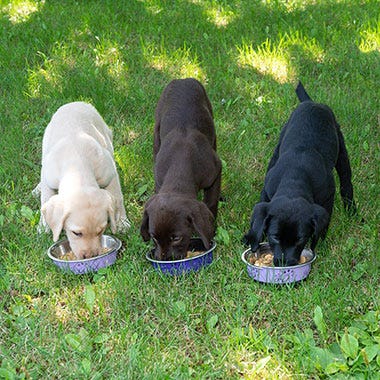 Q: How did you learn about our fundraising programs?

Purdys Chocolatier was kind enough to make an annual gift contribution to our events for many years and through the support of Purdys, we heard about the fundraising programs.

Q: How often do you fundraise with Purdys?

Canadian Guide Dogs for the Blind participates in Purdys annual Easter and Christmas seasonal fundraising campaigns.

Q: What are the funds used for?

Canadian Guide Dogs for the Blind operates solely through donations and fundraising. Proceeds raised through our fundraising campaigns are directed towards the training of guide dogs.

Q: What's a typical day for a guide dog in training?

A day in the life of a guide dog in training varies, depending on the dog's age and status. The process of training begins with the pups being taken from their litter box at 8 weeks of age and lodged with foster families until they are approximately 14-18 months of age. During this period, they are treated as family pets but are exposed to shopping centres, libraries, stores, city streets, buses, cars and people. The aim is to completely socialize the pup in the environment where it will probably live with its future master.

The next stage of its training lasts from six to eight months at our National Training Centre, where our professional Guide Dog Mobility Instructors teach the dog to walk in harness and to avoid obstacles as well as to indicate to its future master how to navigate a safe route to destinations. The final stage of training lasts three weeks when the trained dog is introduced to its new partner and they work together, building trust and confidence in each other. The visually-impaired person and new guide dog live in our residence and work together for 18 days visiting almost every kind of environment they might encounter in the years ahead.

Q: Can you tell us more about Purdy, the guide dog? Where is she now?

Purdy is currently finishing her preliminary training with one of our volunteer foster families. In the coming months, Purdy will begin her formal training at our National Head office located in Manotick and then will hopefully be matched with one of our clients.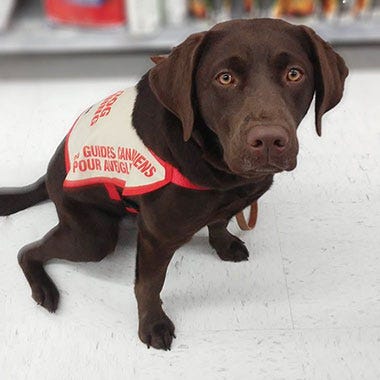 Raise funds for what matters to you, whether it's for guide dog training or new playground equipment. We're here to help you hit your fundraising goals with our Seasonal Fundraising and Year Round Fundraising program. Learn more here.