Mandarin, 6 pc
Dark chocolate ganache with tangy Sicilian mandarin orange purée, in a shell of dark chocolate speckled with naturally coloured cocoa butter.

Made with sustainable cocoa.
Shipping & Gift Guarantee
Get FREE Shipping on Canadian Orders $99 or more
Merchandise total must be $99 or more per individual address, after discounts and before taxes.
Offer limited to online orders on purdys.com shipped Standard Post within Canada.
Purdys Gift Guarantee
We take great care to ensure your gifts arrive in perfect condition (as if you'd delivered them yourself).
If there are any issues with your order, please call 1.888.478.7397 ext 4 or email sales@purdys.com within 5 days of delivery.
What is a chocolate truffle?
A chocolate truffle is a type of chocolate confectionery, made of a hard or soft shell with smooth chocolate ganache in the center. At Purdys, we make chocolate truffles with a hard chocolate shell and smooth chocolate ganache centre. Ganache is made with chocolate, cream, and sometimes other flavours like fruit purees or liqueurs to create unique and tasty combinations. All made with sustainable cocoa.
Ingredients: Unsweetened chocolate, Sugar, Cocoa butter, Milk ingredients, Mandarin juice, Glycerine, Natural and artificial flavours, Riboflavin, Titanium dioxide, Soy lecithin, Beet red, Citric acid, Carrageenan.
May contain: Tree nuts, Peanuts, Wheat, Eggs.
Ingrédients: Chocolat non sucré, Sucre, Beurre de cacao, Substances laitières, Jus de mandarine, Glycérine, Arômes naturels et artificiels, Riboflavine, Dioxyde de titane, Lécithine de soya, Rouge de betterave, Acide citrique, Carraghénine.
Peut contenir: Noix, Arachides, Blé, Oeufs.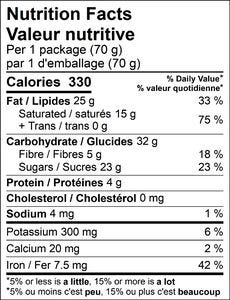 We found other products you might like!