Your Guide to Purdys Vegan Chocolate 
When people say "vegan," what do they mean? Well, to put it simply: vegan foods contain no ingredients that come from animals. Usually, it is easy to tell. Some animal products are quite common and obvious, such as meat, cheese, and dairy products such as cream and butter. But others are sometimes less common or not as obvious. For example, many people do not realize that honey is not vegan because it comes from bees! Here, we will try to answer all the questions you may have about vegan chocolate so the next time you are shopping for plant-based treats, you will know what to look for to make sure what you are enjoying is vegan.

So, firstly: Is Chocolate Vegan?
Most dark chocolate is inherently vegan. Superior quality dark chocolate only has a handful of ingredients: cocoa, (usually listed as cocoa mass and cocoa butter), sugar, lecithin, and sometimes vanilla. However, dark chocolate is often made in the same places as non-vegan products and can come in contact with animal-based ingredients.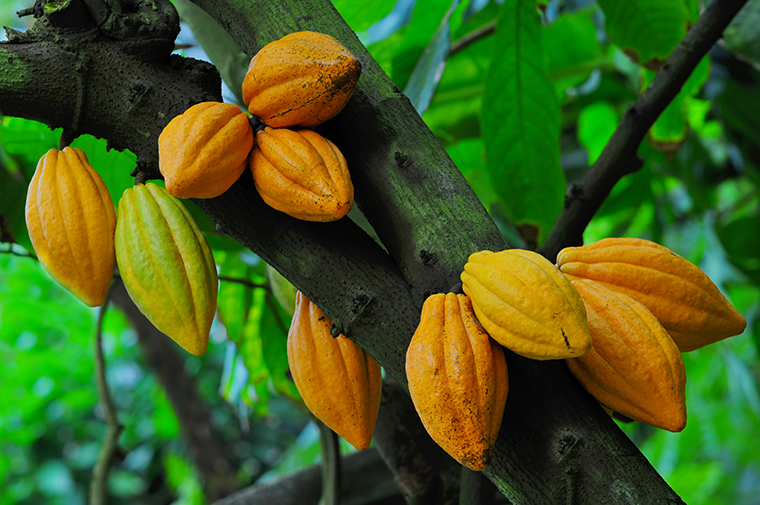 Cacao is the word for beans harvested from the Theobroma cacao tree and have been fermented and dried. Once they are roasted and ground into a paste to make chocolate, they are referred to as cocoa instead of cacao. Confusing, right? Either way, this part of chocolate processing comes from a tree and is vegan!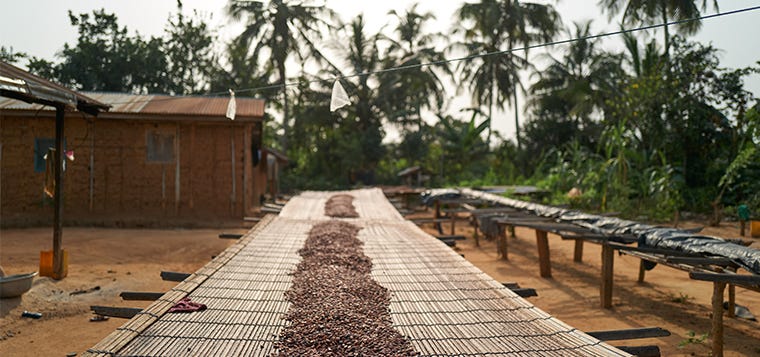 What Is Vegan Chocolate Made Of?
Vegan chocolate is made from cacao beans that have been roasted and milled into a cocoa paste with sugar and an emulsifier – usually lecithin.
Is White Sugar Vegan? What About "Bone Char Sugar"?
White sugar comes from either sugar cane or sugar beets – both are plants! These plants are juiced and then the juice is purified, dehydrated, and crystallized into the desired particle size. Historically it was a frequent practice to use a filter made from bone char to purify the liquid sugar, which renders the sugar no longer vegan. But this practice is currently very uncommon and not used in the sugar that we use in our products.
What Is Cocoa Butter? Is It Vegan?
Cocoa butter is the fat component of the cocoa bean. It is called butter because when it is separated from cocoa mass it has the colour of dairy butter – but cocoa butter is totally plant-based and vegan. When the beans have been ground into a paste, they are put in a hydraulic press that presses the cocoa butter out of the mass – just like how a press is used to extract olive oil from olives. Because cocoa butter comes from the cocoa bean, which grows on trees – it certainly is vegan!
Is Vegan Chocolate Dairy-Free?
Milk and white chocolate are made by adding dried milk powder to cocoa butter, sugar and cocoa mass and milling them together. In vegan chocolate, milk is not added, and if it is processed on equipment where it cannot come into contact with dairy, then it is vegan.
What Is Vegan Chocolate?
Vegan chocolate is chocolate that is made without any addition of dairy products and has not come into contact with any animal products such as dairy, eggs, or honey.
Does Vegan Chocolate Taste The Same?
Almost all dark chocolates are naturally vegan, and there are many types of dark chocolate out there with varying flavour profiles. Vegan milk chocolates (ours are called "Mylk") can taste slightly different from dairy-based milk chocolates as the creaminess comes from plant-based ingredients like rice, oats, or coconut.
What Makes Vegan Chocolate Different?
Vegan chocolates are definitively chocolate. They are made from the same cacao beans, and they only become "non-vegan" when animal products such as dairy, butter or honey are added. Vegan chocolates are crafted with plant-based ingredients such as soy milk or maple syrup.
What Makes Purdys Vegan Chocolate Different?
When we started making vegan chocolate, we wanted the taste and texture to be unique and delicious! Purdys vegan dark chocolate is 60% dark chocolate and is very creamy and smooth because we made sure of it. Purdys vegan Mylk chocolate has a 38% cocoa content, which is darker than most milk-type chocolates, making it less sweet than many other vegan milk-type chocolates. Also, we use rice syrup powder to give it a creamy texture and a clean flavour.
With our Vegan Hawaiian Black Salt Caramels and Vegan Sweet Georgia Browns, we wanted to make an exceptional-tasting caramel that didn't taste too much like coconut! Coconut is a relatively accessible replacement for dairy, but it means that so many vegan treats taste like coconut. While our caramels do contain coconut milk and coconut oil, they have other plant-based ingredients to balance the flavour and make them super tasty with their own unique flair.
Purdys Vegan Dark Chocolate
We use our vegan dark chocolate for solid bars and seasonal treats, as well as our amazing Vegan Dark Trail Mix Bar, which features vegan dark chocolate studded with almonds, cranberries, raisins and pumpkin seeds. It's also found in our Vegan Hawaiian Black Salt Caramels that are coated in this gorgeous, smooth, dark chocolate.
Purdys Vegan Mylk Chocolate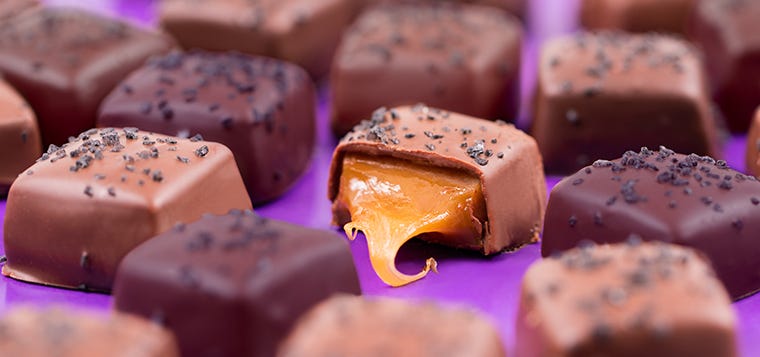 Vegan Hawaiian Black Salt Caramels
Our Vegan Hawaiian Black Salt Caramels have a chewy vegan caramel centre, enrobed in either Vegan Mylk Chocolate or Vegan Dark Chocolate, and then topped with Hawaiian Black Salt.


Vegan Sweet Georgia Browns
Crunchy roasted pecans, amazingly soft vegan caramel and a generous dollop of our creamy Vegan Mylk chocolate.


Where Can I Buy Vegan Chocolate? 
You can find Purdys vegan chocolate collection online or in-shops across Canada. We have a great variety of vegan treats to choose from. Including vegan dark and Mylk chocolate bars to more indulgent treats like Vegan Sweet Georgia Browns and Vegan Hawaiian Black Salt Caramels! All made with plant-based ingredients right here in Canada.


Vegan Peanut Butter Caramel Thumbprint Cookies Recipe
Easy to make crispy and chewy vegan cookies. Featuring our Vegan Hawaiian Black Salt Caramels!
Rachel's No-Bake Vegan Mylk Chocolate PB & O Squares
The perfect quick, easy "grab-and-go" snack! This vegan treat is perfect for busy families and made with creamy vegan Mylk chocolate and full of healthy ingredients.
The Best Vegan Chocolate Cake: Vegan Chocolate Ganache Swirl Cake
Impress friends and family with this beautiful and decadent Vegan Chocolate Ganache Swirl Cake. This party show-stopper features Purdys' Vegan Dark Chocolate.